It is now a fact that people just like you and I are seeking to live life in a more optimised and efficient manner. More and more Americans (Europeans, South Americans, and particularly Asians are already well ahead of the curve) have decided to toss aside their 2,000 plus square foot homes in exchange for something that is more cost effective, practical, efficient, and harmonious with nature. These very same people are realizing that this new "downsizing" is in actuality an increase in standard of living. Homes are more easily maintained and small spaces inevitably lead to better orginasation which in turn lead to a less stressful environment. If you look closely you will see this change occurring as we speak. Our residences incorporate modern design yet in a functional and luxurious way.
Although arranged in a crescent shape around the pool and terrace area, the site layout for the community allows for spaciousness and privacy. You will find seclusion here; you will not be "on top" of your neighbors so to speak.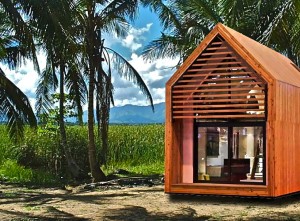 The residences themselves are reminiscent of the housing systems created by a company by the name of Dwelle. You can visit their site by clicking here. Our construction methods take advantage of the aggregate industry that is located in the Dominican Republic. Each residence is assembled from concrete block with a hardcoat exterior finish. Not only is this a strong, weather resistant construction method, it is also leads to a very well-insulated structure which inevitably reduces utility costs.
The floor plan is simple to say the least, with a great room/living area, kitchen, bathroom, closet areas, and a loft bedroom. Simplicity is magic, and in this case, simplicity is luxury as well. The days when living "green" meant living without are long gone. You enter the residence via a side entrance into what would be considered an entry area, between the living room to your right and the bathroom to your left. Beyond the full and well-appointed bathroom is an equally well thought out kitchen. The kitchen contains a refrigerator and freezer, a three burner gas stove with oven, granite counter tops, a dual-sink deep basin stainless sink, and of course more than enough cabinet and storage space.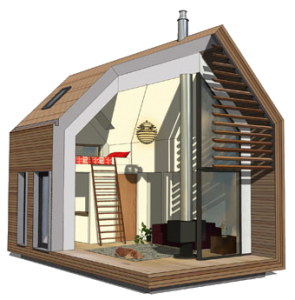 The true beauty within this residence is the unique use of space above the bathroom and kitchen area. This is the spacious "master" bedroom area. two nightstands, closets, and a bed make this area private and luxurious. Couple this with a fold out sofa in the living room and you have a residence that will comfortably sleep four.
All this is wrapped up in a package that can (as needed) be completely self-sustaining and independent of any grid-based network. As with any residence however, power consumption will need to be kept to an absolute minimum – don't expect to run an air conditioner and TV with the lights on all day every day without worry.
Each residence will make use of the latest in solar, wind, and water power generation systems in order to help offset and in some instances replace grid-based networks. Keep in mind that the Dominican Republic is both sunny, rainy, and diverse in its' geography. We will make strategic use of solar powered products, rain catchment systems, and due to our prime location a community hydro power plant.
With the luxurious touches and resilient features, these residences are a perfect fit for what could be considered a perfect community!